Most industrial hemp these days is produced for medical cannabis, whether for local use or to export from the country its grown in. More and more, however, we're seeing different countries further embrace the other uses of industrial hemp, like for building materials, plastics, clothing, and so on. Ecuador recently joined in on this when it expanded its hemp cultivation and production industry, to cover more industrial uses.
Ecuador is a country in South America that borders the Pacific Ocean to its left, and Colombia and Peru to its northwest and southwest, respectively. Officially known as The Republic of Ecuador, it also includes the Galapagos Islands to its east in the Pacific, an island that became famous for its many varied birds, and Charles Darwin's research into natural selection.
By the 15th century, most of the local indigenous groups of the area had converged into the Inca Empire, until it was colonized by Spain in the 16th century. The country declared its independence in 1820, at that time a part of Gran Colombia (a larger version of Colombia, which split off to form Ecuador, Panama, Venezuela, and parts of Peru, Brazil, and Guyana). It split from here, becoming it own sovereign nation, in 1830.
Ecuador is home to close to 18 million people, and while Spanish is the main language, it also has 13 other native languages recognized. Ecuador is considered a developing country, and relies on its farming and petroleum industries, mainly. It holds the 8th largest economy of South America, which puts it in the bottom half, though it did show high growth in the beginning of the century, and is considered an upper-middle-income country. Having said that, it struggles with extreme poverty, with numbers decreasing in the beginning of the century, just to rise to 34.60% in 2020.
---
Thanks for being with us. We offer the Cannadelics Weekly Newsletter for email updates; and to access cool promotions on cannabis buds, vapes, edibles, smoking equipment, cannabinoid compounds (delta-8, HHC), and a wide selection more. Join us here for all your cannabis shopping!
---
Cannabis in Ecuador
Ecuador might not be as far along as a country like Uruguay (the only Latin American country, aside from Mexico, which has legalized recreational cannabis), but it certainly has made great strides recently when it comes to cannabis; akin to other Latin American countries like Argentina, Colombia, and Costa Rica. In Ecuador, cannabis isn't legal for recreational use, but there is a decriminalization policy that allows up to 10 grams for personal use. The 2008 Constitution of Ecuador was the first reform policy, and doesn't stipulate drug use as a crime, but rather a health issue.
This was backed up in 2014 with the introduction of new policy by Attorney General Diego Garcia, who stated "the law allows use and does not consider it criminal, but cultivation, trafficking, and sale of little or large amounts of drugs continue to be prohibited." He did stipulate that "according to the Constitution (article 364), we do not criminalise drug use. We consider it a health problem and not a crime."
In 2014, new legislation passed called the Comprehensive Organic Criminal Code, which updated the section on criminal offenses under the previous Law 108, which was instituted in 1991. Law 108 was noted for it harshness, with punishments up to 10 years for cannabis sales; and the ability to slap crimes together to create bigger sentences of up to 25 years. So, say, you were caught selling, you might also be prosecuted for trafficking, which could mean years more onto the sentence.
These new laws set better parameters for the distinction of specific crimes, so that punishments could more correctly fit each crime. For example, it differentiates between large-scale, and small-scale trafficking; rather than prosecuting all trafficking crimes the same way. The law also decriminalized personal cultivation of cannabis, but specifically outlawed growing any psychoactive plants for commercial use.
Then, in 2019, the Reform of the Criminal Law, was Updated, and went into effect in June of 2020. This included reforms like the institution of medical cannabis: "decriminalization of possession of drugs that contain cannabis or derivatives as their active ingredient for therapeutic, palliative or medicinal ends, or for the practice of alternative medicine". It also amended the Law of Control and Prevention of the use of Drugs, to exclude "non-psychoactive or hemp cannabis from control, extended to the cannabis plant or any part of the plant, whose delta-9-tetrahydrocannabinol (THC) content is less than 1%."
Ecuador's National Assembly passed the medical cannabis bill with a vote of 82 to 23 (with 23 abstentions). Then President Lenín Moreno had a month to veto the voted-in action, but did not, allowing these measures to pass into law. Together, these reforms regulate cannabis and derivatives for legal medical use. The law gave the Ministry of Agriculture up to 120 days to come up with regulations for the cultivation, importation, production, sale, and export of industrial hemp.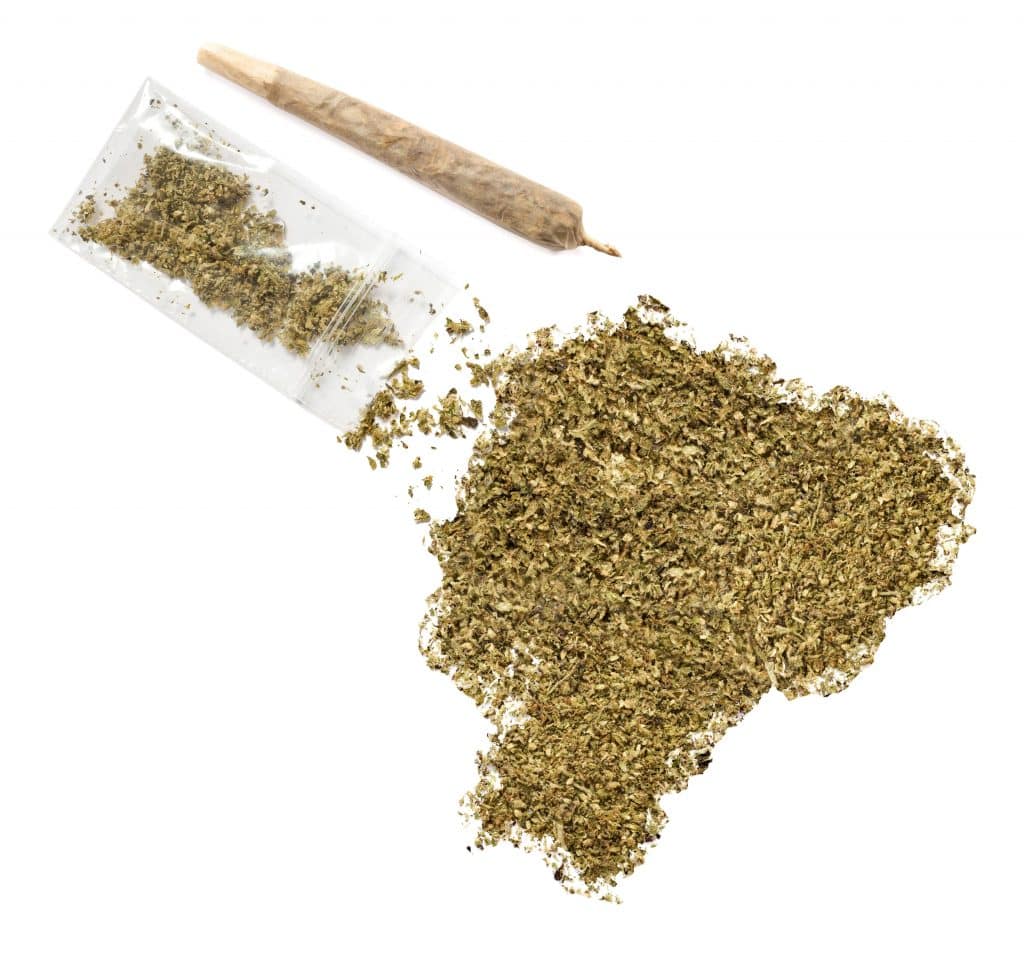 Ecuador and industrial hemp cultivation now
Ecuador's hemp market kicked off in 2022 when it was announced AYA Natural and Medical Products became the first company to gain GMP certification to begin production. That was in March, nearly a year ago. Since then, the country has continued to catapult itself into the industrial hemp global market. However, recently, it made some interesting updates.
Reported in early 2023, the Ecuadorian government approved an initiative between two private companies (Green and Growth, Quito; and Nobis Holding de Inversiones) and the Latin-American organization Industrial Hemp Association (LAIHA). As a group, the three will grow between 100 to 1,000 hectares of hemp in Ecuador, at an expense of approximately $25 million, going up to $50 million, starting in 2025.
Executive Director of Green and Growth, Jaime Gómez, stated: "Among the main objectives of this initiative is to position the country as one of the economies that join the global commitment to the production of sustainable materials and resources," and that it "will generate hundreds of jobs."
What's the difference between this, and what is already cultivated outside the program? Aside from this, pretty much all flower has been grown for export in a medical market. This new partnership is meant to grow hemp for fiber and grain production, to be used in "high-grade materials, such as technical fibers, biochar and other value-added products, for export and stimulation of the national market," according to the group.
Ecuador sure jumped into the world of hemp quickly. Information released by the Ministry of Production, Foreign Trade, Investment and Fisheries last year, stated that up until October, 2022, there were already over 150 cannabis products on the market; all in line with regulation through the National Agency for Health Regulation, Control and Surveillance. Of the more than 150 products, 56% were for cosmetics, 25% for medicinal use, and 19% for food products. As of December 2022, according to the National Registry of Hemp Licensees of the Ministry of Agriculture and Livestock, 169 licenses were given out.
What else is Ecuador up to in the world of hemp?
This year from February 9-11, Ecuador hosted the Fourth Meeting of Expert Professionals in Phytocannabinoids, put on by Cannamerica. It happened at the Universidad de las Américas campus UDLA Park, in the capital city of Quito. These meetings are in line with the United Nations Sustainable Development Goals for 2030, regarding areas such as health and related issues, education, general industry, and innovation and infrastructure.
For its part, Cannamerica is an international organization that works to establish connections between companies and associations within the industry, with a focus on access and use of medical cannabis. Previous meetings were held in Peru, Chile and Argentina. The event had approximately 50 exhibitors from different countries, who represent expertise in clinical use, as well as research, and the industry in general.
The meeting showcased varied professionals within the field of cannabis. This included Eliana Eberle, the Undersecretariat for Productive Innovation Projects for the Ministry of Production, Science and Technology, who presented an agronomic model of cannabis cultivation for climatic conditions like winter; and the provincial Ministry of Health, which expounded on results for the very first survey about medical cannabis, which was administered to health teams.
Conclusion
As of right now, there are no specific plans for a recreational legalization in Ecuador, but it wouldn't be surprising if one came up soon. For now, Ecuador maintains as one of the more forward-thinking countries when it does come to cannabis, with an eye on expanding its industrial hemp market even further.
Hello all! Thanks for making your way to Cannadelics.com; where we work daily to bring you independent news for the expanding cannabis and psychedelics fields. Head our way frequently to stay up-to-date on everything important; and sign up to the Cannadelics Weekly Newsletter, so you're always sure to be ahead of the curve.
Related