A Washington State psilocybin bill that a Senate panel gutted of its legalization provisions last week advanced out of the Senate Ways and Means Committee on Thursday ahead of an end-of-week legislative deadline.
The panel approved the proposal, which in its current form would extend the state's ongoing review of psilocybin, on a voice vote during an all-day session.
Committee members also adopted another round of changes to the bill, meant to clean up what was still messy legislation after last week's overhaul by Sen. Karen Keiser (D) in the Senate Labor and Commerce Committee. Despite the sweeping changes, Keiser said at the earlier hearing that her substitute bill came together "in the last two days, pretty much" and was "not a refined bill."
As originally filed, SB 5263 would have put Washington on the road to regulating psilocybin services much like its neighbor Oregon. Adults 21 and older would have been able to legally use the drug with the support of a trained facilitator, and regulators would have been required to accept license applications for product manufacturers, service centers and product testing labs by September 2025.
Keiser's changes last week in Labor and Commerce scrapped those provisions, however, constraining the proposal to merely studying the issue. The latest amendment from Sen. June Robinson (D), adopted on Thursday, made a number of changes to smooth the bill's language and fix errors.
—
Marijuana Moment is tracking hundreds of cannabis, psychedelics and drug policy bills in state legislatures and Congress this year. Patreon supporters pledging at least $25/month get access to our interactive maps, charts and hearing calendar so they don't miss any developments.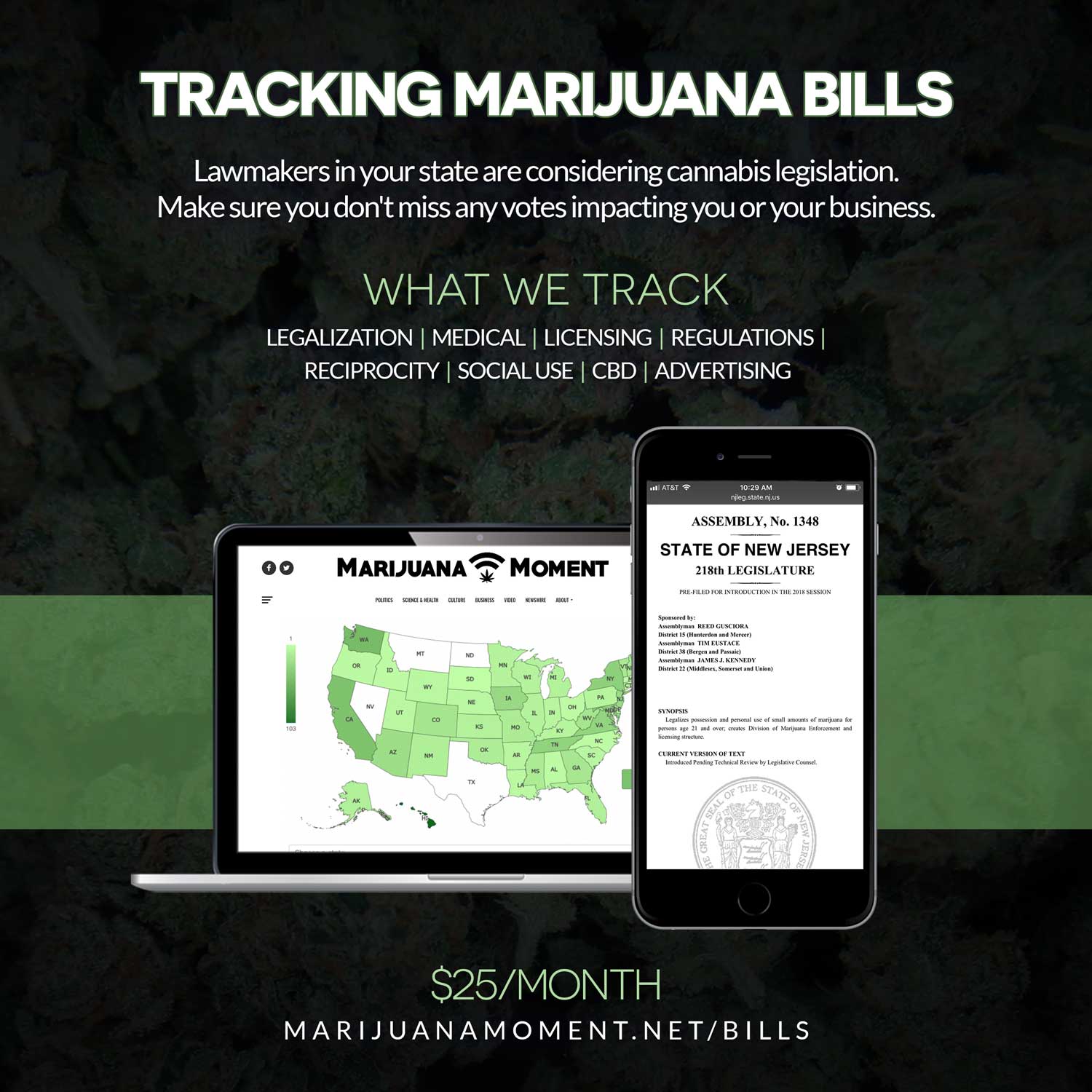 Learn more about our marijuana bill tracker and become a supporter on Patreon to get access.
—
"It seems like the amendment to the substitute is cleaning up the bill as it left the policy committee versus changing the policy intent of what came out of the policy committee," Ways and Means Committee Chair Sen. Christine Rolfes (D) observed before the vote.
One noteworthy change under Robinson's amendment is that it gets rid of Keiser's proposal to establish a state registry of adults who express interest in using psilocybin. Critics said many people wouldn't want to put their personal information on a government log that tracks those who may want to try what is still a federally illegal substance.
After all the changes, what was once an 81-page bill to legalize psilocybin services for adults is now an eight-page proposal to form a psilocybin task force.
Earlier in the week, during a hearing to gather public comment, advocates for broader access to regulated psilocybin urged lawmakers to return the bill to its original form.
Anthony Back, a Seattle doctor and professor of medicine at the University of Washington, is currently leading a clinical trial of psilocybin-assisted therapy for doctors and nurses with depression and burnout related to their frontline work on the COVID pandemic.
"My trial is only about 75 percent done so I can't give you final results," Back told the committee. "But what I can share is that what I have seen so far are some remarkable responses for clinicians who were suffering in a way that completely blocked their ability to do the work they love."
Keiser asked Back whether he felt the state would be ready to legalize psilocybin services or whether "we should wait until we have some results from your clinical trial and any other clinical trials that might be underway."
"Obviously it would be lovely if we could wait until incredibly definitive results were in from everything," Back replied. But waiting years to offer safe access to psilocybin, the doctor added, "is not doing justice to the mental health crisis that I am seeing now."
Back warned lawmakers that denying adults access to legal psilocybin carries its own set of health and safety risks.
"I have already heard accounts of desperate clinicians who are seeking underground care," he said, "including a nurse who was sexually assaulted by an underground provider who was unregulated, unlicensed, unaccountable."
Tatiana Quintana, co-director of the Psychedelic Medicine Alliance of Washington, urged lawmakers to reinstate the bill's original provisions.
"We need access for alternative medicines that our community can steward," she said, "and the original bill set up a framework that does that." The substitute bill, meanwhile, "offers no promise of implementation of psilocybin services."
"Now, we don't want any legislator to have the impression that we are putting the cart before the horse," Quintana continued, noting that a state Psilocybin Work Group has been studying the issue and is already scheduled to issue a final report by the end of the year. "We also don't want to kick the can down the road endlessly, which is what this bill feels like to our community."
Keiser, who had in fact signed on as a co-sponsor of the original bill, told Marijuana Moment after last week's revision that she offered the substitute because of "grave concerns about the original bill, as I was witness to the problems that grew out of passing medical cannabis without enough structure for a regulatory system that ensured a safe product and a licensing system that had real oversight."
Some advocates, including the Psychedelic Medicine Alliance Washington, which supported the original bill, have accused Gov. Jay Inslee (D) of putting pressure on Keiser to scuttle the original bill. The group told supporters in an email last week that the governor "single handedly decided to gut our bill."
In an email, Keiser denied those claims, saying she had not been in contact with the governor. But Jaime Smith, Inslee's executive director of communications for Inslee, told Marijuana Moment that the governor's office had been in touch with the original bill's lead sponsor, Sen. Jesse Salomon, and "discussed the bill with Sen. Keiser as well."
It remains unclear whether lawmakers will consider further amendments to SB 5263, such as changes that could revive portions to legalize psilocybin services. By clearing a legislative deadline set for Friday, the bill will stay alive this session and is eligible for revision. It next heads to the Senate Rules Committee before potentially being scheduled for floor action.
Salomon told Marijuana Moment last week that he was still "sorting out" how he felt about the overhaul. "Last year the bill died," he said. "That is not the case this year. I guess that could be called progress."
The senator did not respond to further questions this week about the future of his proposal.
Meanwhile, on the Senate floor on Wednesday, lawmakers approved a bill, SB 5123, that would protect most job candidates in the state from being discriminated against simply for using marijuana. The legislation notes that most drug tests detect only THC metabolites, which can remain in a person's system for weeks after using cannabis.
Keiser, who is that bill's lead sponsor, told colleagues, "It simply doesn't make sense to base an employment decision on that kind of unreliable outcome and test."
The protection would apply only to pre-employment drug tests. Workers could still be fired for a positive cannabis test that occurs after they're hired.
A number of cannabis and drug policy reform bills are also moving forward in Washington State, including measures to legalize home cultivation of marijuana and allow interstate commerce.
Photo courtesy of Wikimedia/Mushroom Observer.
The post Amended Washington Psilocybin Bill Clears Key Deadline Amid Outcry From Advocates Over New Amendment appeared first on Marijuana Moment.